DEODORANT All natural ZERO Chemicals Aluminum Free Stops Odor Helps with Wetness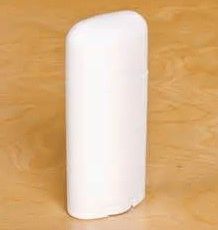 Picture is representative only
This is an excellent odor controlling skin conditioning Deodorant.  No chemicals or additives. 
Ingredients:  Shea butter, coconut oil, beeswax, Vitamin E oil, Iodine (for added odor control & as a preservative), Bentonite clay, Arrowroot powder, Baking Soda and pure therapeutic grade essential oils for scent.  
3 Scents available:  Lavender / Lilac, Citrus, or Clean (Compare to Irish Springs)
PLEASE NOTE:  PRODUCT IS GRAY IN COLOR DUE TO THE CLAY.  THE CLAY HELPS WITH ODOR CONTROL AND HELPS TO ABSORB TOXINS AS WELL.  This color does not stain clothing nor show up on skin.  
The majority of our herbal tinctures & products are handmade & hand infused.  Blends are recipes developed by a holistic practitioner of 16 years & former Registered Nurse of over 18 years.    Herbs used are either organic or wild harvested.  We are a small home based business committed to quality.  We also offer holistic education & protocols to people, to teach how to get healthy using solely natural means.  From the simplest of diseases to the most complex, we can help.  Our contact information is available on the contact us page.

Facebook Educational Group:  https://www.facebook.com/groups/12foru/
***As per FDA guidelines:  None of these products are intended to treat, diagnose, treat, or cure disease.