NEW CUSTOMERS RECEIVE 10% OFF ORDER: NEWCUSTOMER
HAIR GROWTH SUPPORT Treatment Herbal infused oil Rice Bran Oil Horsetail Burdock Peppermint Potassium iodide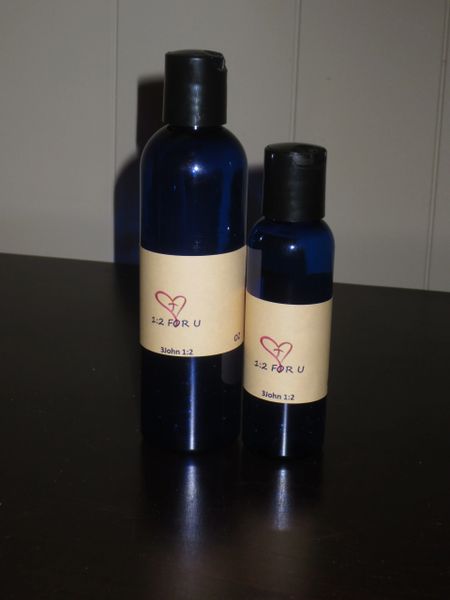 Description
This oil has the following Ingredients known to help strengthen and grow hair from the outside in.
To Use: Rub oil on scalp and hair. If possible cover with cap and sleep overnight or cover with cap and leave on for 1 hour. You may use heat from a blow dryer intermittently to help the oil penetrate the scalp more effectively.
INGREDIENTS:
Horsetail
Called such because of its long brush-like features, horsetail's potent ingredient is silica which is responsible for strengthening bones, nails and hair. It restores brittle hair to keep it from breaking or thinning thereby preventing further hair loss.
Burdock (Arctium lappa)
This herb definitely has its benefits to people suffering from hair loss. Burdock actually promotes healthy hair by improving the circulation of blood to the hair follicle and in relieving scalp irritations. Burdock contains high levels of essential fatty acids and phytosterol compounds that are known to be effective reversing and reducing hair thinning. Phytosterol is actually one of the most potent ingredients of many hair restoration products in the market today. [9]
Stinging Nettle (Urtica Diocia)
Stinging nettle also has a long-standing reputation for being an excellent hair rinse, and was used in the Mediaeval times to help cut down on hair oiliness by controlling sebum production. It was also believed to add body, shine, and lustre to hair, and to help in the hastening of hair-growth, the retardation of hair-loss, and the management of common scalp problems like dandruff, psoriasis, eczema, and even lice infestations

Rice Bran Oil
The presence of ferulic acid and esters in rice bran oil help in stimulating hair growth. It is also rich in antioxidants and vitamin E, which provide many benefits for hair. Omega-3 as well as omega-6 fatty acids provide nourishment to your hair and also prevent premature graying of hair. Use it as a hot-oil treatment to pamper your hair and make it a part of your hair care regimen to gain beautiful and healthy hair.

Peppermint
When massaged into the scalp, peppermint oil also makes an excellent hair grower. It promotes hair growth by stimulating the growth of hair follicles. [10] When applied as oil, peppermint offers cooling and soothing effects to the scalp which is good as this helps in promoting hair growth. It is also capable of binding the hair roots as well as in encouraging better circulation to the scalp. According to studies, enhanced circulation significantly affects the process of hair growing. [11]
Lavender
Originating from the Mediterranean, lavender has been widely used by herbal practitioners in encouraging hair growth and in preventing baldness. Lavender is known to contain anti-bacterial agents that help in healing and soothing skin infections as well as in relieving dandruff. [12]
When used regularly, lavender is capable of preventing hair loss as well as in ensuring significant re-growth of hair. It oil also offers calming and relaxing effects thereby preventing the occurrence of stress, insomnia and depression which are widely considered as common causes of alopecia or hair loss.
Rosemary
For centuries, rosemary has been widely used as a solution to hair loss, hair thinning balding or receding hairline. It actually works by stimulating the circulation in the scalp thereby resulting to hair growth. This works best when added to olive oil and applied as oil. [14]
Regular application of rosemary oil even helps in preventing premature graying as well as in treating dry and flaky scalp. Furthermore, rosemary works by strengthening and nourishing the hair follicles starting from the shaft. [15]
Potassium Iodide:
Your body needs potassium to:
Symptoms of low levels of potassium in a human are:
The majority of our herbal tinctures & products are handmade & hand infused. Blends are recipes developed by a holistic practitioner of 16 years & former Registered Nurse of over 18 years. Herbs used are either organic or wild harvested. We are a small home based business committed to quality. We also offer holistic education & protocols to help people support their health using dietary supplementation. From the simplest of diseases to the most complex, we can offer support for your health. Our contact information is available on the contact us page.

Facebook Educational Group: https://www.facebook.com/groups/12foru/

***As per FDA gudelines: None of these products or information provided are intended to treat, diagnose, treat, or cure disease.