SERRAZIMES Capsules Fibrin Cardiovascular Lymphatic Support Serrapeptase alternative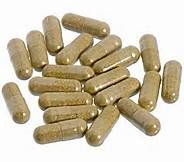 Serrazimes® is a proteolytic blend composed of enzymes derived from the edible fungi, Aspergillus oryzae and Aspergillus melleus. Scientific studies indicate that Serrazimes may help maintain and support cardiovascular and lymphatic health through its ability to help break down excess fibrin. Serrazimes® may also help support the immune system and promote a healthy response to external stresses. Serrazimes® is safe and effective when used as directed, providing enzymatic activity equivalent to Serrapeptidate (aka, Serrapeptase). Serrazimes has been shown in laboratory analyses to have a 1:1 enzymatic equivalent of serrapeptidase activity.
This is a food source alternative for serrapeptidase. 12foru is dedicated to always offering food non synthetic sources of supplements
Supplement Facts
Serving Size: 1 vcap
Servings Per Container: 90
Ingredient
Amount
% Daily Value**
Serrazimes
33mg
†
** Percent Daily Value is based on a 2000 calorie diet. Your daily values may be higher or lower depending on your calorie needs.
† Daily Value not established.
Manufacturer's Directions
As a dietary supplement, take 1 Vcap® 1 to 2 times daily before meals. Make sure to take on an empty stomach.
Manufacturer's Disclaimer
Not recommended for pregnant/lactating women or young children. If currently taking any anti-coagulant (blood-thinning) medications, please consult a health practitioner prior to use.
The majority of our herbal tinctures & products are handmade & hand infused. Blends are recipes developed by a holistic practitioner of 16 years & former Registered Nurse of over 18 years. Herbs used are either organic or wild harvested. We are a small home based business committed to quality. We also offer holistic education & protocols to people, to teach how to get healthy using solely natural means. From the simplest of diseases to the most complex, we can help. Our contact information is available on the contact us page.

Facebook Educational Group: https://www.facebook.com/groups/12foru/
***As per FDA gudelines: None of these products are intended to treat, diagnose, treat, or cure disease.