NEW CUSTOMERS RECEIVE 10% OFF ORDER: NEWCUSTOMER
VEGAN GUMMY WHOLE FOOD VITAMINS pour your own KITS Children PRENATAL Adults No Chemicals or Preservatives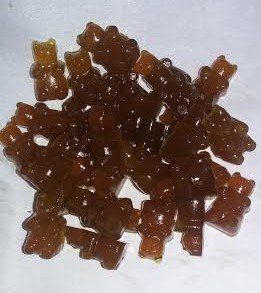 Description
All handmade VEGAN Whole food Gummy vitamins made with Agar. Excellent for every day vitamin needs. Kids & Adults alike love these tasty gummy vitamins. Great for a wholesome prenatal vitamin as well. These vitamins have no synthetic vitamins, no chemicals, and no preservatives

***These contain shitake mushroom infusion to provide B12 & CLA. Mushrooms are the only non animal foods that contain these two nutrients****
Children under 75 Lbs: 1 daily
Children and adults over 75 Lbs: 2 daily
KIT SIZES:
(vitamins are made, you will need to melt them and pour them into the mold / molds provided)
4 oz: Makes minimum 100 vitamins and comes with (1) mold which makes 50 vitamins
8 oz: Makes minimum 200 vitamins and comes with (3) molds which will make 150 vitamins
16 oz: Make minimum 400 vitamins and comes with (4) molds which will make 200 vitamins
*****VITAMINS ARE PRE ORDER ONLY & MADE ONCE ORDER IS PLACED. THEY TAKE 3 DAYS TO MAKE
Currently we can only offer these in the form of a "kit" The vitamins do come made but you will need to pour the melted liquid into the molds due to melting issues while shipping. The only way to prevent this is to let them cure for 2 weeks before shipping. If you prefer to wait for them to cure properly please use the website contact form and we will get those made for you.*****
Ingredients: Agar, Magnesium chloride, 12foru handmade Colloidal minerals, Super Elderberry syrup (made by 12foru: elderberries, goji berries, frankincense resin, clove powder, cinnamon powder, ginger powder, orange & grapefruit peel plus mineral sugar ) Iodine, Shitake mushroom infusion for B12 & CLA, Molasses, & Mineral Sugar for sweetness, Lemon Juice, & Colloidal silver for preservative & freshness.
The majority of our herbal tinctures & products are handmade & hand infused. Blends are recipes developed by a holistic practitioner of 16 years & former Registered Nurse of over 18 years. Herbs used are either organic or wild harvested. We are a small home based business committed to quality. We also offer holistic education & protocols to help people support their health using dietary supplementation. From the simplest of diseases to the most complex, we can offer support for your health. Our contact information is available on the contact us page.

Facebook Educational Group: https://www.facebook.com/groups/12foru/

***As per FDA gudelines: None of these products are intended to treat, diagnose, or cure disease.