ZAPPER 9 volt BATTERY Dual - 30KHz HULDA CLARK with 5KHz OPTION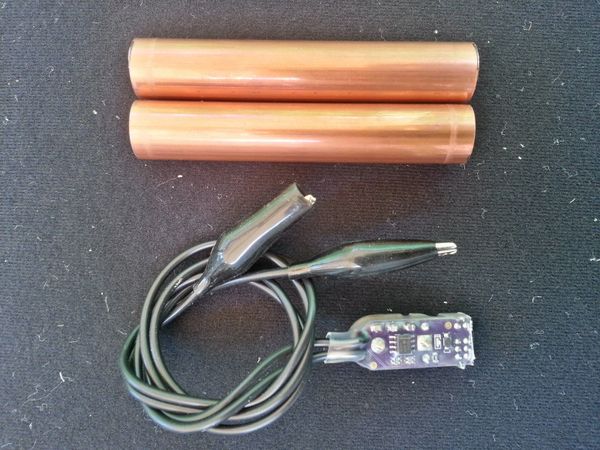 Dual Frequency BATTERY MOUNTED - 30KHz HULDA CLARK ZAPPER with 5KHz frequency added
Positive Offset, 50% Duty Cycle

This item ships with two 1/2" diameter copper tubes 

     (9V BATTERY IS NOT INCLUDED) with this purchase
This zapper comes with a convenient ON/OFF switch,  One direction outputs the  original Hulda Clark 30KHz, the other direction outputs the 5KHz frequency.  The center position is OFF.  Simply snap the unit to the top of a 9V battery, connect the 18" flexible wires to the copper hand holds(INCLUDED)  or to EKG/ECG electrodes (not included) 
Select which frequency you would like to use and start zapping.
LED indicator tells you the Zapper is on. 
When you have finished simply turn the switch to the center OFF position.   You can leave the Zapper connected to the battery indefinitely as it draws no power when switched off.
Your unit comes with SCP Short Circuit Protection and RPP Reverse Polarity Protection, preventing inadvertent damage to the unit should you touch the tubes together or attempt to connect the battery in reverse.
This Dual Frequency Zapper meets Dr Hulda Clark's specifications of:  30KHz square wave, positive DC offset, and 50% duty cycle but also includes a 5KHz square wave, positive DC offset, with 50% duty cycle as well.
One Dual Frequency Battery Mounted Hulda Clark Zapper unit made from high quality SMD parts mounted on FR-4 circuit board, with three position 30KHz / OFF / 5KHz Switch, LED indicator, RPP Reverse Polarity Protection, SCP output Short Circuit Protection Included:
- 2 flexible 18" wires and attached alligator clips (various colors),
- 2 copper hand holds (1/2" Diameter x 3.5" length).  Cut from 10' x 1/2" tube stock
      (9V battery not included)
Individual results will vary and no "health" claims are being made with this or any other of 12foru products as per FDA guidelines
  The majority of our herbal tinctures & products are handmade & hand infused.  Blends are recipes developed by a holistic practitioner of 16 years & former Registered Nurse of over 18 years.    Herbs used are either organic or wild harvested.  We are a small home based business committed to quality.  We also offer holistic education & protocols to people, to teach how to get healthy using solely natural means.  From the simplest of diseases to the most complex, we can help.  Our contact information is available on the contact us page.

Facebook Educational Group:  https://www.facebook.com/groups/12foru/